3 Reasons to Buy Replacement Windows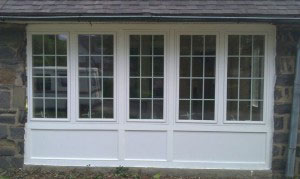 When our customers decide to replace their old windows, the following are the top 3 reasons they give for making their decision:
Energy-Efficiency: Today's energy efficient replacement windows will start saving you money on your Ambler area home's energy bill immediately. It is not uncommon for a residential window replacement to yield a 25 – 40% savings on the energy bill for their Ambler area home. Vinyl windows in particular offer the highest level of energy savings as they have a welded frame that is foam injected to increase R-value. Energy-efficient may also have low-e glass to help keep heat inside in the winter and outside in the summer. A last feature of energy-efficient replacement windows is multiple panes. Two paned insulate better than one and three-pane windows offer even more energy-efficiency and more sound control.
Maintenance/Durability: You will really notice how much easier your new replacement windows are to clean and maintain at your Ambler area home. Most designs tilt or pivot to make cleaning a breeze. Improved technology in materials and design of today's windows means they are constructed to last a lifetime with minimal care. If you choose vinyl replacement windows, you will never need to paint them over the lifetime of the window.
Look: With the diversity of styles, features, and designs available with modern replacement windows, it is easy to see why so many Ambler area homeowners are opting to replace their old windows with beautiful new replacement windows. Whether you choose vinyl, fiberglass, or wood replacement windows for your Ambler area home, Catalfano Brothers offers a full line of replacement windows from top rated companies, such as Simonton and TrimLine.
Whatever your reasons are for buying new replacement windows, Catalfano Brothers has the knowledge to help you make an informed decision. Contact us today at 215-884-1266 for a free estimate for your Ambler area home.
If you are looking for a Delaware Valley Roofing Contractor or Roofer in Northern Philadelphia, please call 215-884-1266 or complete our request estimate form.